DA LONDRA A LOS ANGELES CON I ROLLING STONES E I DOORS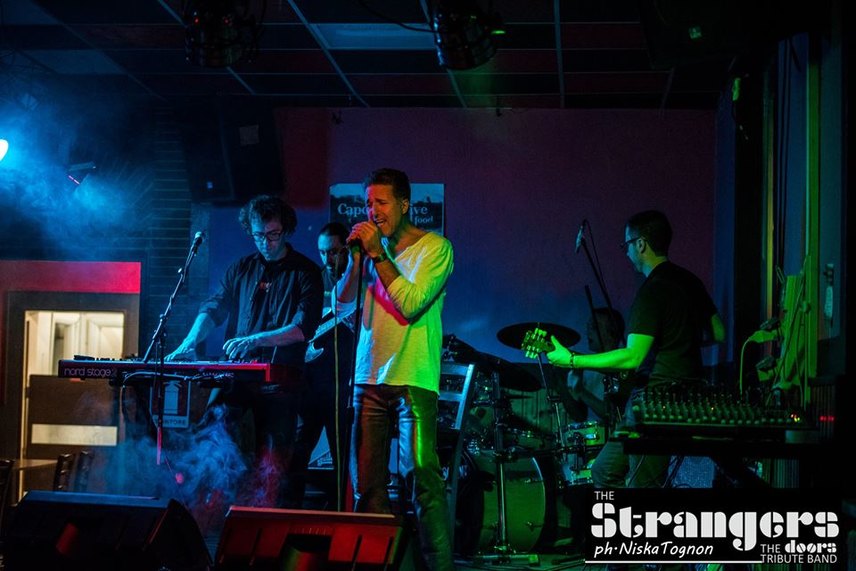 Viaggio nelle culle del rock giovedì 7 giugno allo Spazio Teatro 89 di Milano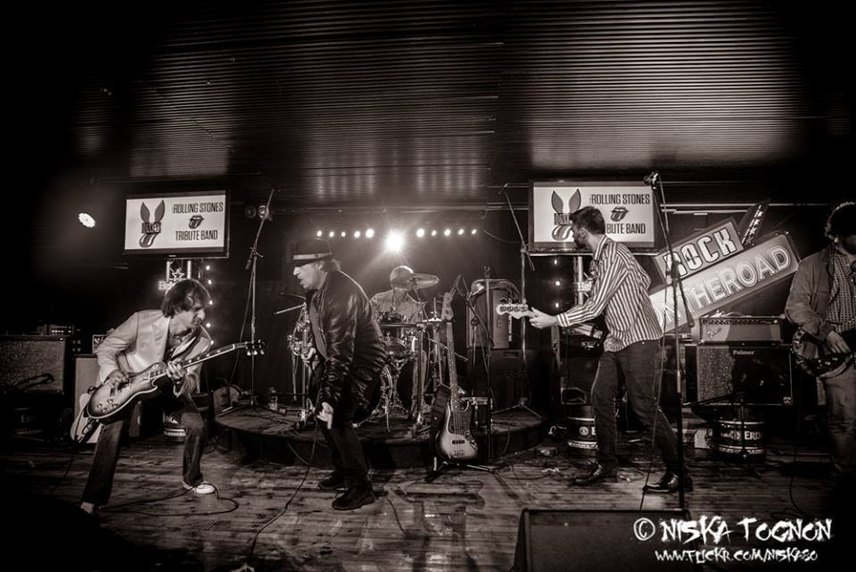 Si intitola London-Los Angeles 66-71 l'evento in programma giovedì 7 giugno (ore 21.30; ingresso 10-13 euro) allo Spazio Teatro 89 di Milano: si tratta di uno spettacolo a metà strada tra il teatro e l' omaggio musicale, a cura del giornalista e musicologo Fabio Santini, ma anche di un viaggio alla ricerca di un'epoca e di una geografia culturale e sociale da rivivere al suono di pezzi che hanno fatto la storia del rock.
I riflettori saranno puntati, in particolare, sui profili artistici e umani di Mick Jagger e Jim Morrison, leader e frontmen dei Rolling Stones e dei Doors. Il tributo musicale sarà affidato ai Donkeys Forever e a The Strangers. I primi, attivi dal 2004 e uniti dall'amore per il Rock and Roll e il Blues anni 70, interpretano con passione e intensità il repertorio dei Rolling Stones e ne ripercorrono i 50 anni di carriera; i secondi si sono formati nell'estate del 2013 con l'intenzione e la volontà di provare a trasmettere a tutti i fan dei Doors quell'atmosfera seducente che accompagnava le loro esecuzioni nei lontani anni Sessanta.
SPAZIO TEATRO 89, via Fratelli Zoia 89, 20153 Milano.
Tel: 0240914901; info@spazioteatro89.org; www.spazioteatro89.org.
Biglietto: 13 euro intero; 10 euro ridotto.
FreeMarker template error (HTML_DEBUG mode; use RETHROW in production!)

No "LBnavLeft" key in the ResourceBundle. Note that conforming to the ResourceBundle Java API, this is an error and not just a missing sub-variable (a null).
----
FTL stack trace ("~" means nesting-related):
- Failed at: ${common.LBnavLeft} [in template "dev.sevendaysweb.com/layouts/macro/content_details.ftl" in macro "navigator" at line 46, column 65]
- Reached through: @query name="navigator_prev" cache=fa... [in template "dev.sevendaysweb.com/layouts/macro/content_details.ftl" in macro "navigator" at line 42, column 33]
- Reached through: @content var="c" [in template "dev.sevendaysweb.com/layouts/macro/content_details.ftl" in macro "navigator" at line 41, column 25]
- Reached through: @navigator [in template "dev.sevendaysweb.com/layouts/macro/content_details.ftl" in macro "content_details" at line 311, column 49]
- Reached through: @content var="c" show_last_content=ca... [in template "dev.sevendaysweb.com/layouts/macro/content_details.ftl" in macro "content_details" at line 118, column 9]
- Reached through: @content_details img_full_width=img_f... [in template "dev.sevendaysweb.com/layouts/default.ftl" in macro "contents_column" at line 9, column 13]
- Reached through: @contents_column [in template "dev.sevendaysweb.com/layouts/macro/skeleton.ftl" in macro "container" at line 420, column 49]
- Reached through: @query name="count_areas" cache=false... [in template "dev.sevendaysweb.com/layouts/macro/skeleton.ftl" in macro "container" at line 262, column 5]
- Reached through: @container context, "[left-mid-", "[c... [in template "dev.sevendaysweb.com/layouts/macro/skeleton.ftl" in macro "html" at line 119, column 33]
- Reached through: @cache sv=search_val [in template "dev.sevendaysweb.com/layouts/macro/skeleton.ftl" in macro "html" at line 58, column 9]
- Reached through: @html cat_layout="home" cat_title=tru... [in template "dev.sevendaysweb.com/layouts/default.ftl" at line 24, column 1]
----
Java stack trace (for programmers):
----
freemarker.core._TemplateModelException: [... Exception message was already printed; see it above ...]
at freemarker.ext.beans.ResourceBundleModel.invokeGenericGet(ResourceBundleModel.java:87)
at freemarker.ext.beans.BeanModel.get(BeanModel.java:161)
at freemarker.core.Dot._eval(Dot.java:40)
at freemarker.core.Expression.eval(Expression.java:78)
at freemarker.core.Expression.evalAndCoerceToString(Expression.java:82)
at freemarker.core.DollarVariable.accept(DollarVariable.java:40)
at freemarker.core.Environment.visit(Environment.java:312)
at freemarker.core.MixedContent.accept(MixedContent.java:62)
at freemarker.core.Environment.visitByHiddingParent(Environment.java:333)
at freemarker.core.ConditionalBlock.accept(ConditionalBlock.java:48)
at freemarker.core.Environment.visit(Environment.java:312)
at freemarker.core.MixedContent.accept(MixedContent.java:62)
at freemarker.core.Environment.visit(Environment.java:312)
at freemarker.core.Environment$NestedElementTemplateDirectiveBody.render(Environment.java:2255)
at it.treis.utils.freemarker.CategoryCachedQueryResultDirective.execute(CategoryCachedQueryResultDirective.java:202)
at freemarker.core.Environment.visit(Environment.java:377)
at freemarker.core.UnifiedCall.accept(UnifiedCall.java:104)
at freemarker.core.Environment.visit(Environment.java:312)
at freemarker.core.MixedContent.accept(MixedContent.java:62)
at freemarker.core.Environment.visit(Environment.java:312)
at freemarker.core.Environment$NestedElementTemplateDirectiveBody.render(Environment.java:2255)
at it.treis.utils.freemarker.ContentCachedResultDirective.render(ContentCachedResultDirective.java:201)
at it.treis.utils.freemarker.ContentCachedResultDirective.execute(ContentCachedResultDirective.java:181)
at freemarker.core.Environment.visit(Environment.java:377)
at freemarker.core.UnifiedCall.accept(UnifiedCall.java:104)
at freemarker.core.Environment.visit(Environment.java:312)
at freemarker.core.MixedContent.accept(MixedContent.java:62)
at freemarker.core.Environment.visitByHiddingParent(Environment.java:333)
at freemarker.core.ConditionalBlock.accept(ConditionalBlock.java:48)
at freemarker.core.Environment.visit(Environment.java:312)
at freemarker.core.Macro$Context.runMacro(Macro.java:178)
at freemarker.core.Environment.invoke(Environment.java:700)
at freemarker.core.UnifiedCall.accept(UnifiedCall.java:84)
at freemarker.core.Environment.visit(Environment.java:312)
at freemarker.core.MixedContent.accept(MixedContent.java:62)
at freemarker.core.Environment.visitByHiddingParent(Environment.java:333)
at freemarker.core.ConditionalBlock.accept(ConditionalBlock.java:48)
at freemarker.core.Environment.visit(Environment.java:312)
at freemarker.core.MixedContent.accept(MixedContent.java:62)
at freemarker.core.Environment.visitByHiddingParent(Environment.java:333)
at freemarker.core.IfBlock.accept(IfBlock.java:48)
at freemarker.core.Environment.visit(Environment.java:312)
at freemarker.core.Environment$NestedElementTemplateDirectiveBody.render(Environment.java:2255)
at it.treis.utils.freemarker.ContentCachedResultDirective.render(ContentCachedResultDirective.java:201)
at it.treis.utils.freemarker.ContentCachedResultDirective.execute(ContentCachedResultDirective.java:181)
at freemarker.core.Environment.visit(Environment.java:377)
at freemarker.core.UnifiedCall.accept(UnifiedCall.java:104)
at freemarker.core.Environment.visit(Environment.java:312)
at freemarker.core.MixedContent.accept(MixedContent.java:62)
at freemarker.core.Environment.visit(Environment.java:312)
at freemarker.core.Macro$Context.runMacro(Macro.java:178)
at freemarker.core.Environment.invoke(Environment.java:700)
at freemarker.core.UnifiedCall.accept(UnifiedCall.java:84)
at freemarker.core.Environment.visit(Environment.java:312)
at freemarker.core.MixedContent.accept(MixedContent.java:62)
at freemarker.core.Environment.visitByHiddingParent(Environment.java:333)
at freemarker.core.IfBlock.accept(IfBlock.java:48)
at freemarker.core.Environment.visit(Environment.java:312)
at freemarker.core.MixedContent.accept(MixedContent.java:62)
at freemarker.core.Environment.visit(Environment.java:312)
at freemarker.core.Macro$Context.runMacro(Macro.java:178)
at freemarker.core.Environment.invoke(Environment.java:700)
at freemarker.core.UnifiedCall.accept(UnifiedCall.java:84)
at freemarker.core.Environment.visit(Environment.java:312)
at freemarker.core.MixedContent.accept(MixedContent.java:62)
at freemarker.core.Environment.visitByHiddingParent(Environment.java:333)
at freemarker.core.IfBlock.accept(IfBlock.java:48)
at freemarker.core.Environment.visit(Environment.java:312)
at freemarker.core.MixedContent.accept(MixedContent.java:62)
at freemarker.core.Environment.visit(Environment.java:312)
at freemarker.core.Environment$NestedElementTemplateDirectiveBody.render(Environment.java:2255)
at it.treis.utils.freemarker.CategoryCachedQueryResultDirective.execute(CategoryCachedQueryResultDirective.java:202)
at freemarker.core.Environment.visit(Environment.java:377)
at freemarker.core.UnifiedCall.accept(UnifiedCall.java:104)
at freemarker.core.Environment.visit(Environment.java:312)
at freemarker.core.MixedContent.accept(MixedContent.java:62)
at freemarker.core.Environment.visit(Environment.java:312)
at freemarker.core.Macro$Context.runMacro(Macro.java:178)
at freemarker.core.Environment.invoke(Environment.java:700)
at freemarker.core.UnifiedCall.accept(UnifiedCall.java:84)
at freemarker.core.Environment.visit(Environment.java:312)
at freemarker.core.MixedContent.accept(MixedContent.java:62)
at freemarker.core.Environment.visitByHiddingParent(Environment.java:333)
at freemarker.core.Environment.visitAndTransform(Environment.java:413)
at freemarker.core.CompressedBlock.accept(CompressedBlock.java:37)
at freemarker.core.Environment.visit(Environment.java:312)
at freemarker.core.Environment$NestedElementTemplateDirectiveBody.render(Environment.java:2255)
at it.treis.utils.freemarker.CacheDirective.execute(CacheDirective.java:71)
at freemarker.core.Environment.visit(Environment.java:377)
at freemarker.core.UnifiedCall.accept(UnifiedCall.java:104)
at freemarker.core.Environment.visit(Environment.java:312)
at freemarker.core.Macro$Context.runMacro(Macro.java:178)
at freemarker.core.Environment.invoke(Environment.java:700)
at freemarker.core.UnifiedCall.accept(UnifiedCall.java:84)
at freemarker.core.Environment.visit(Environment.java:312)
at freemarker.core.MixedContent.accept(MixedContent.java:62)
at freemarker.core.Environment.visit(Environment.java:312)
at freemarker.core.Environment.process(Environment.java:290)
at freemarker.template.Template.process(Template.java:312)
at org.apache.struts2.views.freemarker.FreemarkerResult.doExecute(FreemarkerResult.java:223)
at org.apache.struts2.dispatcher.StrutsResultSupport.execute(StrutsResultSupport.java:191)
at com.opensymphony.xwork2.DefaultActionInvocation.executeResult(DefaultActionInvocation.java:372)
at com.opensymphony.xwork2.DefaultActionInvocation.invoke(DefaultActionInvocation.java:276)
at it.treis.smartmedia.navigation.interceptors.PrepareParametersInterceptor.intercept(PrepareParametersInterceptor.java:183)
at com.opensymphony.xwork2.DefaultActionInvocation.invoke(DefaultActionInvocation.java:245)
at it.treis.smartmedia.navigation.interceptors.SubscriptionTokenMatcherInterceptor.intercept(SubscriptionTokenMatcherInterceptor.java:52)
at com.opensymphony.xwork2.DefaultActionInvocation.invoke(DefaultActionInvocation.java:245)
at org.apache.struts2.interceptor.DeprecationInterceptor.intercept(DeprecationInterceptor.java:41)
at com.opensymphony.xwork2.DefaultActionInvocation.invoke(DefaultActionInvocation.java:245)
at org.apache.struts2.interceptor.debugging.DebuggingInterceptor.intercept(DebuggingInterceptor.java:256)
at com.opensymphony.xwork2.DefaultActionInvocation.invoke(DefaultActionInvocation.java:245)
at com.opensymphony.xwork2.interceptor.DefaultWorkflowInterceptor.doIntercept(DefaultWorkflowInterceptor.java:168)
at com.opensymphony.xwork2.interceptor.MethodFilterInterceptor.intercept(MethodFilterInterceptor.java:98)
at com.opensymphony.xwork2.DefaultActionInvocation.invoke(DefaultActionInvocation.java:245)
at com.opensymphony.xwork2.validator.ValidationInterceptor.doIntercept(ValidationInterceptor.java:265)
at org.apache.struts2.interceptor.validation.AnnotationValidationInterceptor.doIntercept(AnnotationValidationInterceptor.java:76)
at com.opensymphony.xwork2.interceptor.MethodFilterInterceptor.intercept(MethodFilterInterceptor.java:98)
at com.opensymphony.xwork2.DefaultActionInvocation.invoke(DefaultActionInvocation.java:245)
at com.opensymphony.xwork2.interceptor.ConversionErrorInterceptor.intercept(ConversionErrorInterceptor.java:138)
at com.opensymphony.xwork2.DefaultActionInvocation.invoke(DefaultActionInvocation.java:245)
at com.opensymphony.xwork2.interceptor.ParametersInterceptor.doIntercept(ParametersInterceptor.java:229)
at com.opensymphony.xwork2.interceptor.MethodFilterInterceptor.intercept(MethodFilterInterceptor.java:98)
at com.opensymphony.xwork2.DefaultActionInvocation.invoke(DefaultActionInvocation.java:245)
at com.opensymphony.xwork2.interceptor.ParametersInterceptor.doIntercept(ParametersInterceptor.java:229)
at com.opensymphony.xwork2.interceptor.MethodFilterInterceptor.intercept(MethodFilterInterceptor.java:98)
at com.opensymphony.xwork2.DefaultActionInvocation.invoke(DefaultActionInvocation.java:245)
at com.opensymphony.xwork2.interceptor.StaticParametersInterceptor.intercept(StaticParametersInterceptor.java:191)
at com.opensymphony.xwork2.DefaultActionInvocation.invoke(DefaultActionInvocation.java:245)
at org.apache.struts2.interceptor.MultiselectInterceptor.intercept(MultiselectInterceptor.java:73)
at com.opensymphony.xwork2.DefaultActionInvocation.invoke(DefaultActionInvocation.java:245)
at org.apache.struts2.interceptor.DateTextFieldInterceptor.intercept(DateTextFieldInterceptor.java:125)
at com.opensymphony.xwork2.DefaultActionInvocation.invoke(DefaultActionInvocation.java:245)
at org.apache.struts2.interceptor.CheckboxInterceptor.intercept(CheckboxInterceptor.java:91)
at com.opensymphony.xwork2.DefaultActionInvocation.invoke(DefaultActionInvocation.java:245)
at org.apache.struts2.interceptor.FileUploadInterceptor.intercept(FileUploadInterceptor.java:253)
at com.opensymphony.xwork2.DefaultActionInvocation.invoke(DefaultActionInvocation.java:245)
at com.opensymphony.xwork2.interceptor.ModelDrivenInterceptor.intercept(ModelDrivenInterceptor.java:100)
at com.opensymphony.xwork2.DefaultActionInvocation.invoke(DefaultActionInvocation.java:245)
at com.opensymphony.xwork2.interceptor.ScopedModelDrivenInterceptor.intercept(ScopedModelDrivenInterceptor.java:141)
at com.opensymphony.xwork2.DefaultActionInvocation.invoke(DefaultActionInvocation.java:245)
at com.opensymphony.xwork2.interceptor.ChainingInterceptor.intercept(ChainingInterceptor.java:145)
at com.opensymphony.xwork2.DefaultActionInvocation.invoke(DefaultActionInvocation.java:245)
at com.opensymphony.xwork2.interceptor.PrepareInterceptor.doIntercept(PrepareInterceptor.java:171)
at com.opensymphony.xwork2.interceptor.MethodFilterInterceptor.intercept(MethodFilterInterceptor.java:98)
at com.opensymphony.xwork2.DefaultActionInvocation.invoke(DefaultActionInvocation.java:245)
at com.opensymphony.xwork2.interceptor.I18nInterceptor.intercept(I18nInterceptor.java:140)
at com.opensymphony.xwork2.DefaultActionInvocation.invoke(DefaultActionInvocation.java:245)
at org.apache.struts2.interceptor.ServletConfigInterceptor.intercept(ServletConfigInterceptor.java:164)
at com.opensymphony.xwork2.DefaultActionInvocation.invoke(DefaultActionInvocation.java:245)
at com.opensymphony.xwork2.interceptor.AliasInterceptor.intercept(AliasInterceptor.java:193)
at com.opensymphony.xwork2.DefaultActionInvocation.invoke(DefaultActionInvocation.java:245)
at com.opensymphony.xwork2.interceptor.ExceptionMappingInterceptor.intercept(ExceptionMappingInterceptor.java:189)
at com.opensymphony.xwork2.DefaultActionInvocation.invoke(DefaultActionInvocation.java:245)
at org.apache.struts2.impl.StrutsActionProxy.execute(StrutsActionProxy.java:54)
at org.apache.struts2.dispatcher.Dispatcher.serviceAction(Dispatcher.java:575)
at org.apache.struts2.dispatcher.ng.ExecuteOperations.executeAction(ExecuteOperations.java:81)
at org.apache.struts2.dispatcher.ng.filter.StrutsPrepareAndExecuteFilter.doFilter(StrutsPrepareAndExecuteFilter.java:99)
at org.apache.catalina.core.ApplicationFilterChain.internalDoFilter(ApplicationFilterChain.java:241)
at org.apache.catalina.core.ApplicationFilterChain.doFilter(ApplicationFilterChain.java:208)
at com.thetransactioncompany.cors.CORSFilter.doFilter(CORSFilter.java:209)
at com.thetransactioncompany.cors.CORSFilter.doFilter(CORSFilter.java:244)
at org.apache.catalina.core.ApplicationFilterChain.internalDoFilter(ApplicationFilterChain.java:241)
at org.apache.catalina.core.ApplicationFilterChain.doFilter(ApplicationFilterChain.java:208)
at org.apache.catalina.core.StandardWrapperValve.invoke(StandardWrapperValve.java:219)
at org.apache.catalina.core.StandardContextValve.invoke(StandardContextValve.java:110)
at org.apache.catalina.authenticator.AuthenticatorBase.invoke(AuthenticatorBase.java:494)
at org.apache.catalina.core.StandardHostValve.invoke(StandardHostValve.java:169)
at org.apache.catalina.valves.ErrorReportValve.invoke(ErrorReportValve.java:104)
at org.apache.catalina.valves.AccessLogValve.invoke(AccessLogValve.java:1025)
at org.apache.catalina.core.StandardEngineValve.invoke(StandardEngineValve.java:116)
at org.apache.catalina.connector.CoyoteAdapter.service(CoyoteAdapter.java:445)
at org.apache.coyote.ajp.AjpProcessor.process(AjpProcessor.java:190)
at org.apache.coyote.AbstractProtocol$AbstractConnectionHandler.process(AbstractProtocol.java:637)
at org.apache.tomcat.util.net.JIoEndpoint$SocketProcessor.run(JIoEndpoint.java:317)
at java.util.concurrent.ThreadPoolExecutor.runWorker(ThreadPoolExecutor.java:1149)
at java.util.concurrent.ThreadPoolExecutor$Worker.run(ThreadPoolExecutor.java:624)
at org.apache.tomcat.util.threads.TaskThread$WrappingRunnable.run(TaskThread.java:61)
at java.lang.Thread.run(Thread.java:748)
Caused by: java.util.MissingResourceException: Can't find resource for bundle java.util.PropertyResourceBundle, key LBnavLeft
at java.util.ResourceBundle.getObject(ResourceBundle.java:450)
at freemarker.ext.beans.ResourceBundleModel.invokeGenericGet(ResourceBundleModel.java:83)
... 177 more